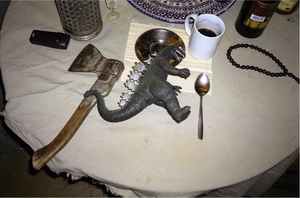 Born in Siberia, Slava Mogutin is a New York based Russian-American multimedia artist and author exiled from Russia for his outspoken queer writing and activism. A third-generation writer and self-taught photographer, he became the first Russian to be granted political asylum in the US on the grounds of homophobic persecution. Informed by his bicultural dissident and refugee experience, Mogutin's work examines the notions of displacement and identity, pride and shame, devotion and disaffection, love and hate.
The photographs in the Lost Boys and Polaroid Rage series tell stories of people on the fringes of society through the prism of Mogutin's personal immigrant journey. Minorities and persons who don't have accurate representation in mainstream culture find a place in Mogutin's art. 
In Lost Boys, Mogutin captured youth subcultures in Russia and Crimea (Ukraine) before its annexation in 2014, contrary to international law. After years in exile, he returned to the countries of the former Soviet Union to document rapid economic and political changes in a society increasingly hostile towards ethnic, religious and sexual minorities.
Polaroid Rage is an ongoing project documenting queer communities in New York, Los Angeles and Berlin. Collaging together the grids of four Polaroids, Mogutin creates multidimensional intimate portraits of his friends and fellow artists. 
'These photos are both personal time capsules and commentary on displacement and identity, rebellion and conformity, obsession with youth, and – perhaps most importantly – a quest for unequivocal love and universal acceptance, from the East to the West and back to the East again.' Slava Mogutin
36cm x 55cm on 50cm x 60cm • Edition of 5 • 1 AP
Fine Art Print
2.000 Euro (framed)