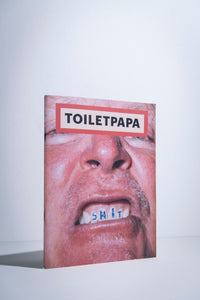 Toiletpapa is the first bootleg copy of the infamous Toiletpaper Magazine by Maurizio Cattelan and Pierpaolo Ferrari. Big fans of the magazine, Max Siedentopf and his father Eckhard went out to reenact some of Toiletpaper's most iconic photos (and a few extra).

Max Siedentopf (1991) is a Berlin based multi-disciplinary conceptual artist working across video, photography, sculpture, creative direction and everything in-between and is the founder of the of the art publication ORDINARY. 

From 2013 - 2020 Max Siedentopf has been creative director of the 'legendary and unorthodox" creative agency KesselsKramer, which was founded in 1996 by the dutch artist Erik Kessels, and is the only one that has worked at all three offices and becoming the youngest partner at age 25. In 2019 Galerie Kernweine exhibited Max Siedentopf's series "Stock Im Arsch".

Max has been described by Vogue Italy as viral artist and his installation "Toto Forever" was included in artnet's "10 Extraordinary Artworks You Need to Travel to the Edge of the World to See" next to Elmgreen & Dragset's 'Prada Marfa', Yayoi Kusama's 'Yellow Pumpkin' and Le Corbusier's 'Notre Dame du Haut'.

In June 2019, Siedentopf starred in the music video for "Mine Right Now", a song by Norwegian singer Sigrid Max was supposed to direct. This was due to Sigrid's flight being cancelled, the singer therefore being unable to appear in the video herself and Max ended up starring in instead.

Next to this he is the founder of Ordinary Magazine which was nominated for Magazine Of The Year, Best Art Direction and Best use of Photography by the Stack Awards. For his Gommi "Psychosis" music video he was awarded the "Most Bizarre Video" at the Berlin Music Video Awards and was also nominated Best New Director at the UKMVAs.